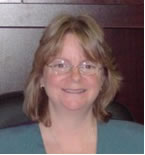 Linda Webster-Smith
Title: Insurance Agent
Email:  lsmith@kyle-realty.com
Phone: (888) 854-9788
Office: (276) 236-6134
Location: GALAX OFFICE Licensed property & casualty Insurance Agent & Certified Insurance Counselor. Serving in the insurance field since 1981, including over 20 years as a local insurance agent. Linda specializes in personal and commercial/business insurance with a special interest in unique and hard to place accounts.